How to Create (Vietnamese) Coffee Shop Vibes at Home
Going to a coffee shop or a cafe isn't just about the food or the drinks; it's about the ambience, the chance to interact with other people, and the feeling of being in a public space. While it's hard to replicate a coffee shop tit for tat, these are a few suggestions you can easily try at home to bring the vibes and experience of going out for coffee.
COFFEE CORNER
For starters, think about the equipment you're using. Don't just make coffee in any old mug– bring out your prettiest cups and cutest spoons. Designate an area of your home as a coffee corner and decorate it accordingly with coffee table books, magazines, lights, tons of plants, and a record player blasting your faves if you're feeling the extra mile. It's all about the mise en scene here– you want to feel like you're immersed in the comfort and rituals of a coffee shop.
COFFEE TOOLS
In the age of corona quarantine, investing in some new brew tools is a great way to imitate cafe vibes at home and bring comfort in daily rituals. If you love the warmth of steamed milk, we'd recommend getting a milk frother. If you love your daily cup of cold brew, you can make your own cold brew at home in sizeable batches and grab from the fridge. If you wanted to go all out, you can invest in a home espresso machine to make lattes and cappuccinos. Breville offers a great home espresso machine for its value (~$550) or go for a La Marzocco Linea Mini if you want to ball out. 
COFFEE RITUAL
Going to a coffee shop and making your usual order is a daily ritual in itself. It's a small piece of the morning where you carve out for yourself, to give yourself a treat and fuel for the day. You can now carve out this time at home and frame the process of making coffee in the morning not as cumbersome -- but as a therapeutic ritual where you can slow down for a few minutes and create an amazing cup of coffee to begin the day. You deserve it!
COFFEE STYLES
The more important aspect of having an at home coffee shop experience is definitely the coffee (both the beans and the drink). Once you've set your stage, think about the coffee drink you'll have. Time to get creative. You can keep it simple with a standard drip or French press, but perhaps try something different and more adventurous today. We're treating ourselves here.
For starters, you can make Vietnamese iced coffee with condensed milk to transport yourself to a cafe in Vietnam. Start with hot water, finely ground coffee beans, a phin filter, ice, condensed milk, and two glasses. Watch your cup brew in the comfort of your coffee corner. Stir the strong coffee into the condensed milk and then pour it into the glass with ice. How's that for indulgence?
If you're in the mood for a more decadent treat, take a crack at Vietnamese egg coffee. Dalgona coffee is all the rage right now, but this whipped egg coffee is one of the original Instagram coffee treats. To make, combine egg yolks, sugar, and condensed milk with an electric hand mixer until thick and foamy, around 5 minutes. Temper the mixture in a hot water bath if you don't wish to consume less-than-cooked eggs. In a nice glass, pour brewed coffee and top with the yolk mixture to create a nice contrast in layers. Once you try this, you'll never go back.
Last but not least on our list of Vietnamese coffee shop inspired drinks is the best ube iced latte you might ever have. Combine ube extract with full fat coconut milk, simple syrup, and vanilla to create the base mix that is good for several drinks and keeps well in the fridge. In a tall glass, add the ube mix first, then ice, followed by milk of choice, and finally strong brewed coffee. The colors on this one will definitely make you want to post to your Instagram stories. And the flavor? Worth it, we promise.
At the end of the day, nothing can fully replace the experience of going to a coffee shop, but in times like these, it doesn't hurt to try. Whether you want to deck out your space to hygge levels of coziness or want to invest in a barista's arsenal of tools and ingredients is all up to you. There's no right or wrong when it comes to the coffee experience, and experimentation is highly recommended. The main point in trying to create a cafe vibe at home is to unwind, indulge, and enjoy a little bit more than usual– it's the little things after all.
––
Shop our Vietnamese Coffee Starter Kit here.
Shop our Vietnamese Coffee Trio and try both arabica & robusta coffee.
Try our Dark Roast Trio today.
Make your own fun, complex coffee creations using our recipes here.
Learn about dialing in a phin filter 
here
.
Shop Our Products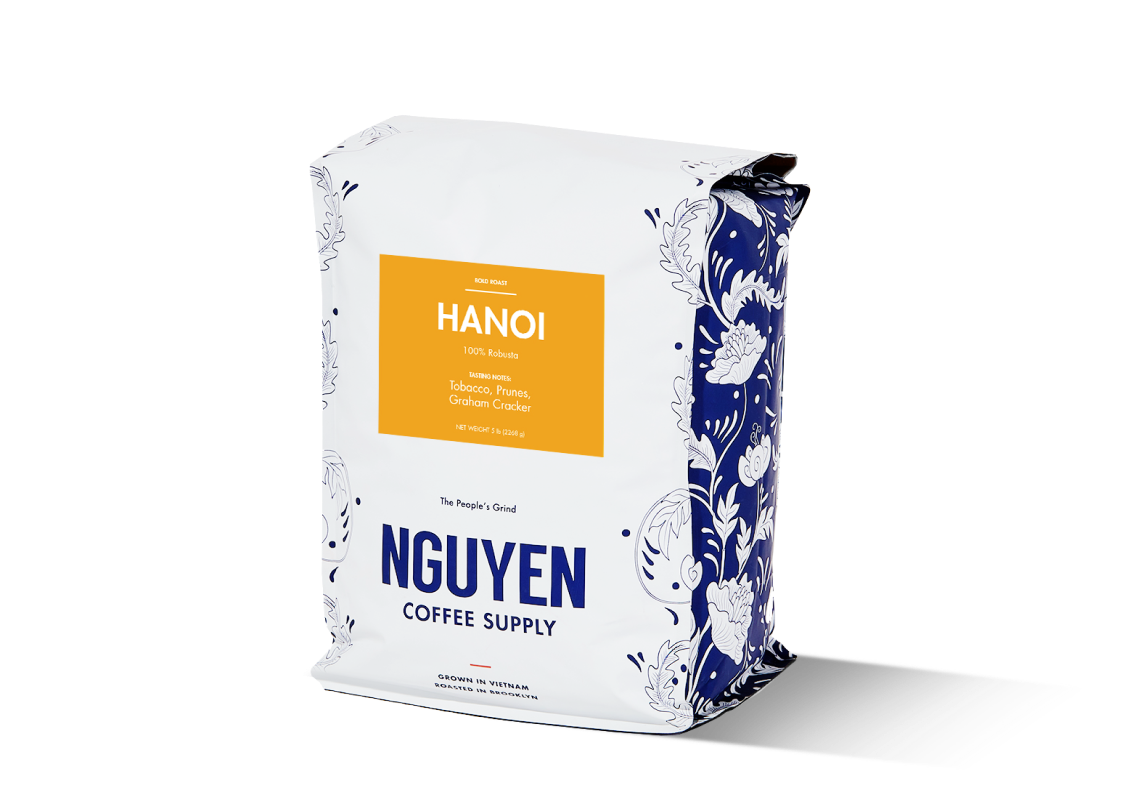 5 lb Bag: Hanoi (100% Robusta)
Dark

Tobacco, Prunes, Graham Cracker

Espresso, Phin Filter, Pour Over, Drip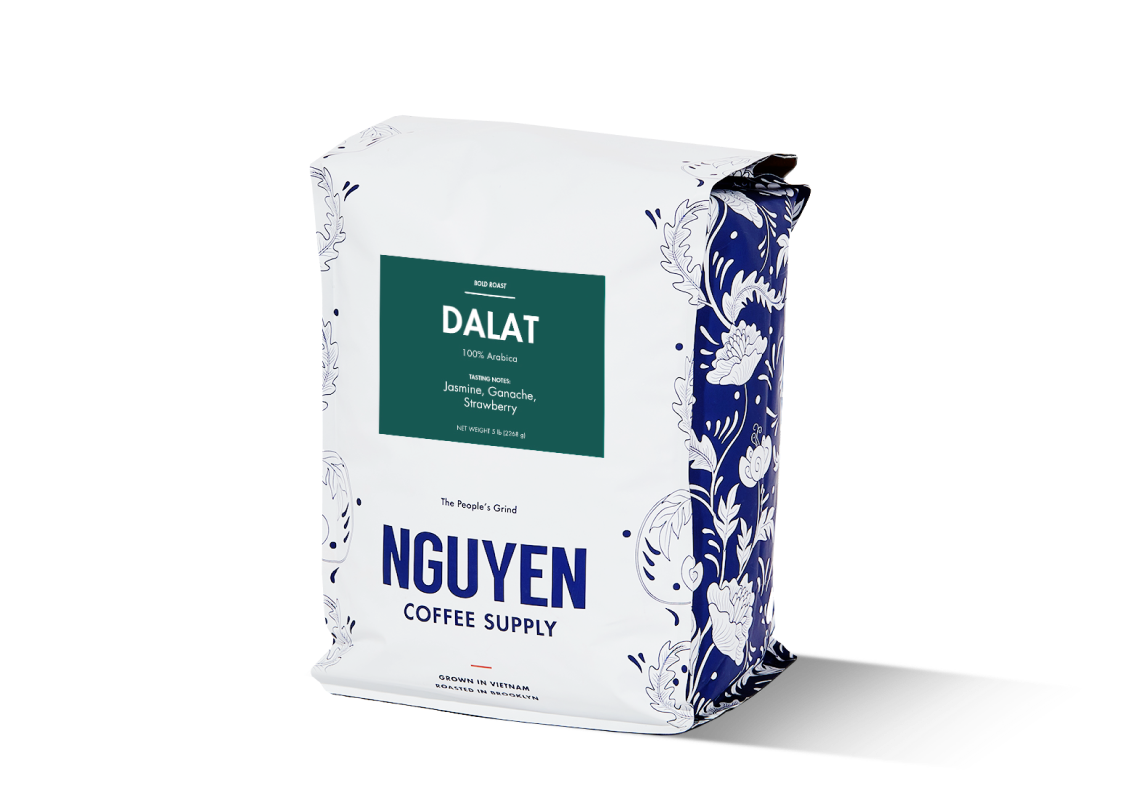 5 lb Bag: Dalat (100% Arabica)
Dark

Jasmine, Ganache, Strawberry

Espresso, Phin Filter, Pour Over, Drip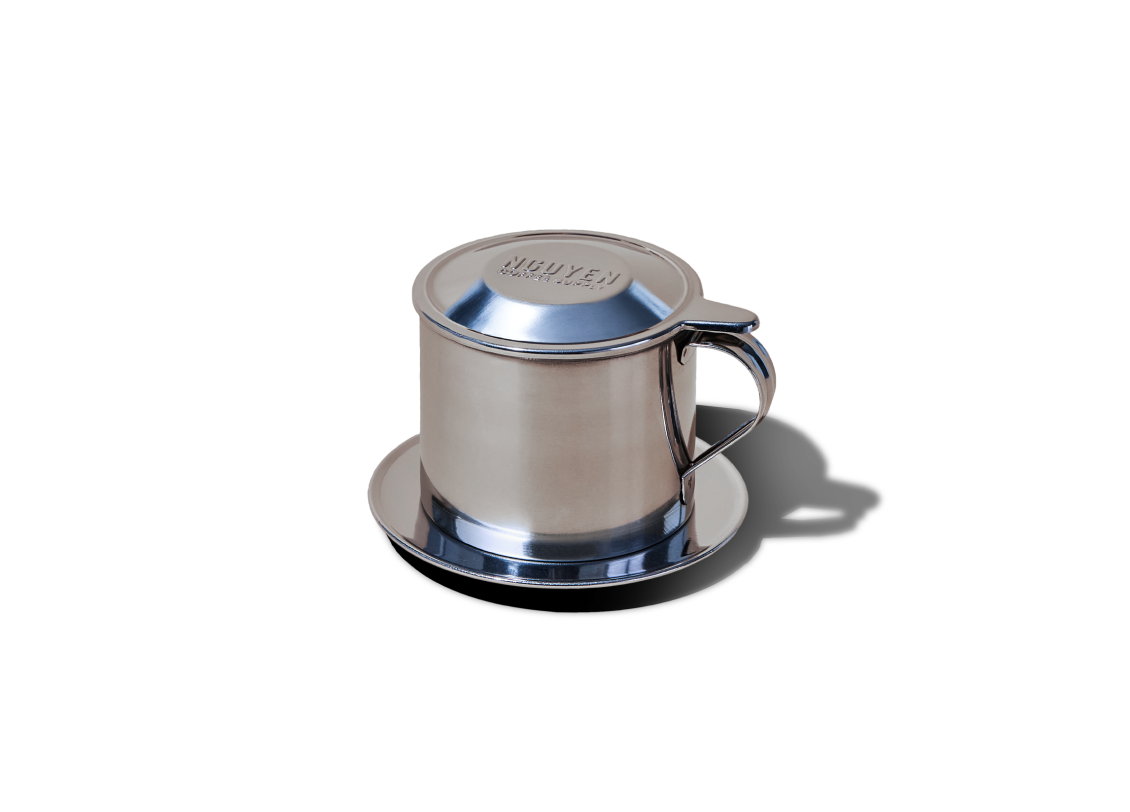 12 oz Phin Filter
Our 12 oz Phin Filter fits on most mugs and can make 1-3 servings of highly caffeinated brew.