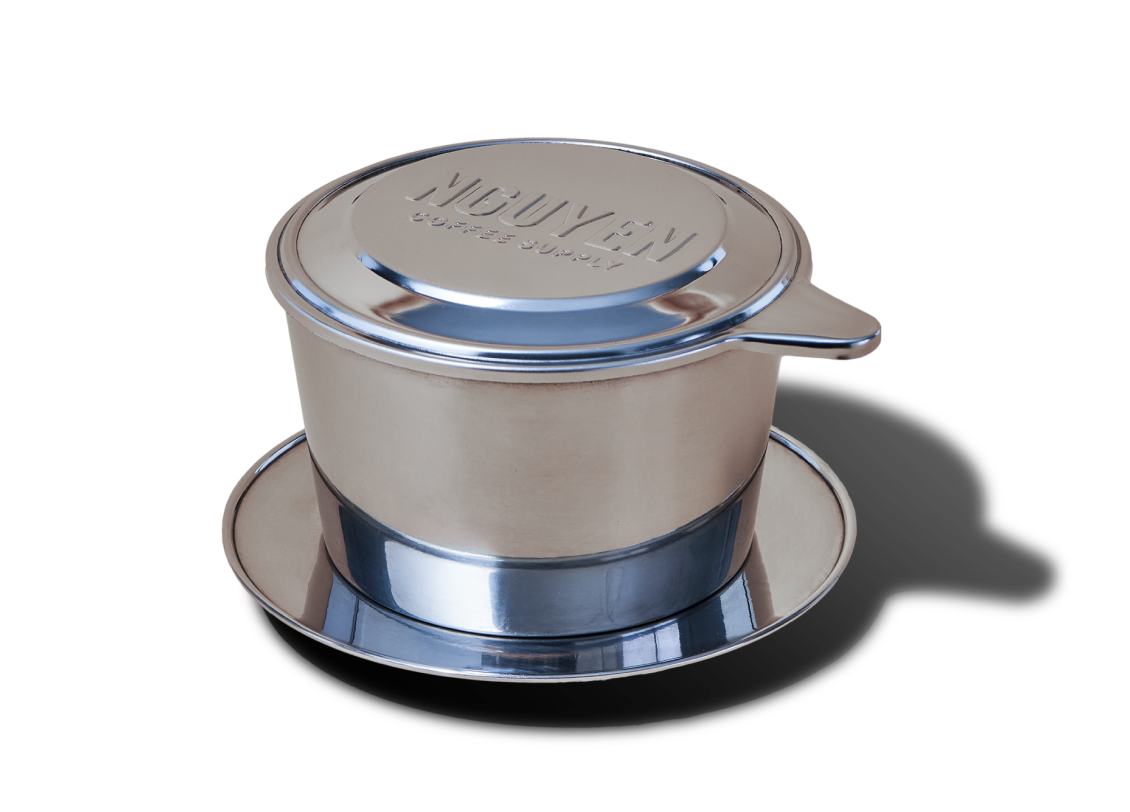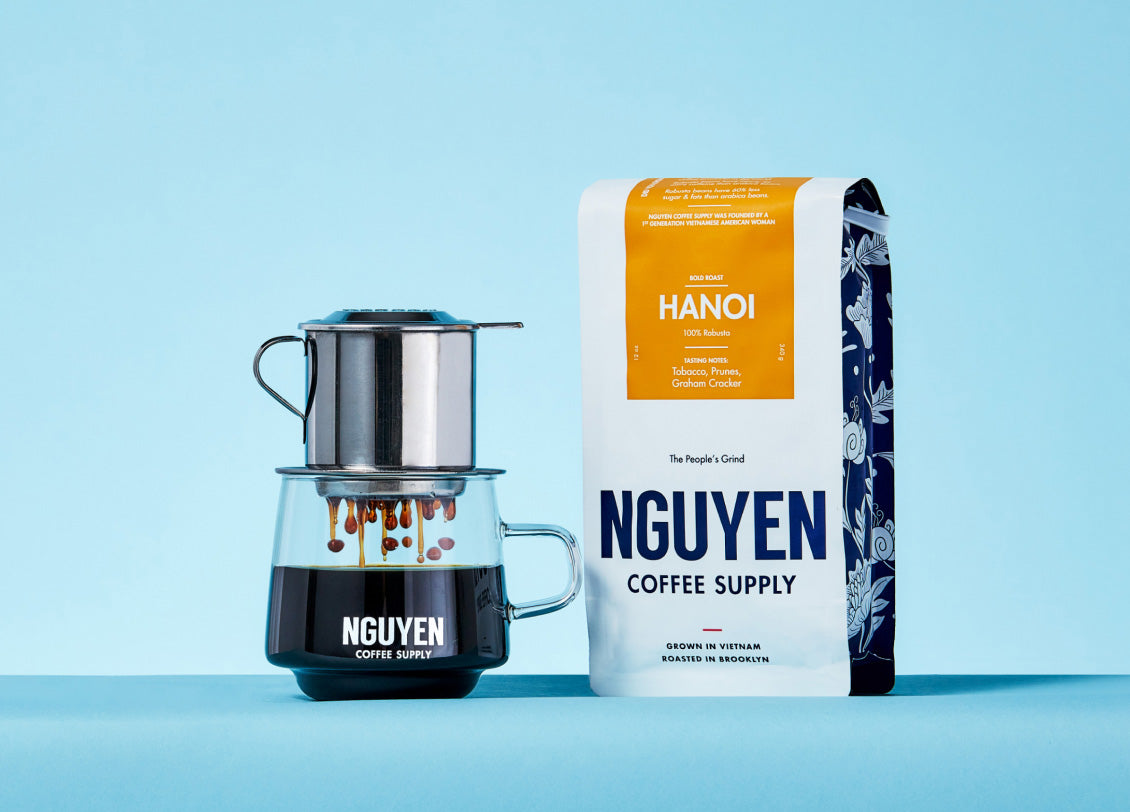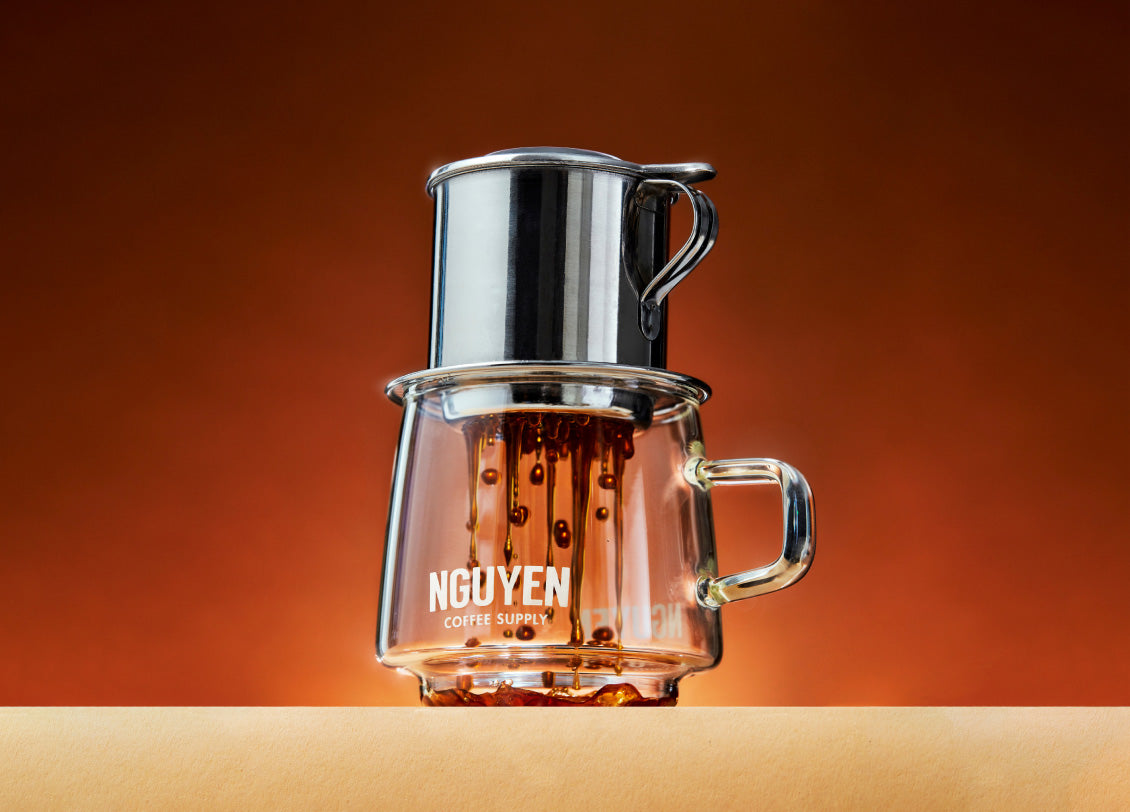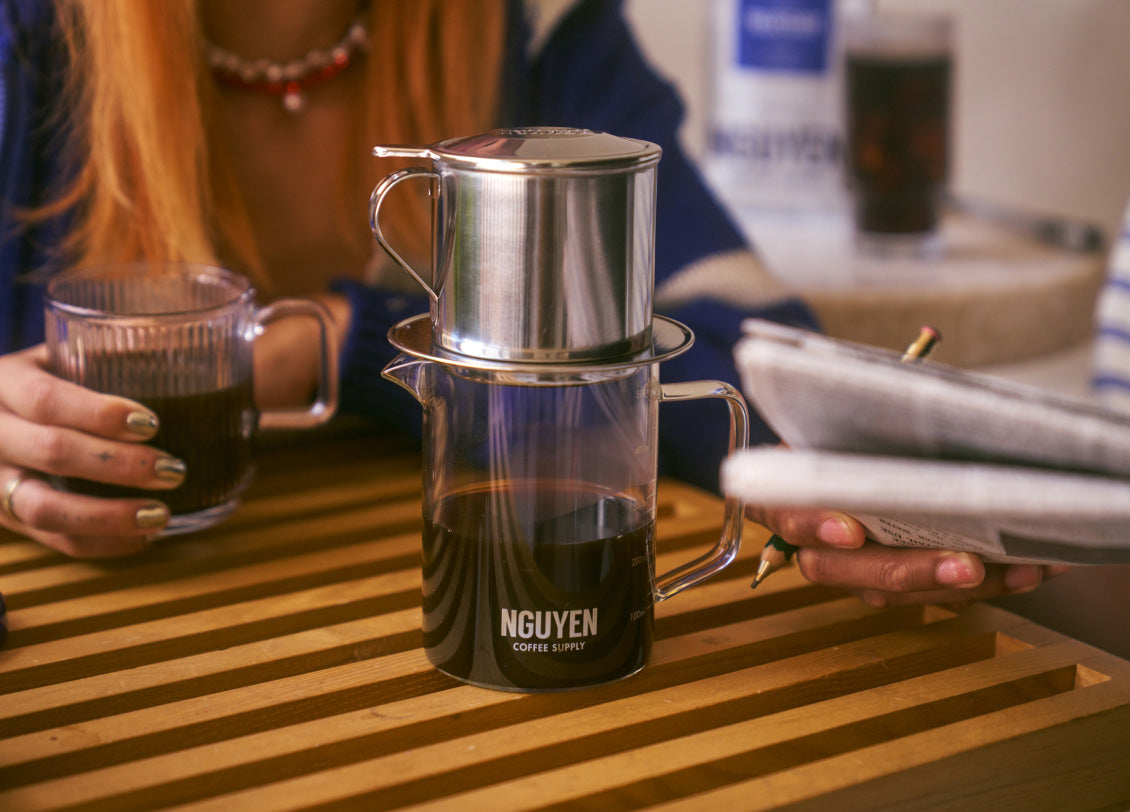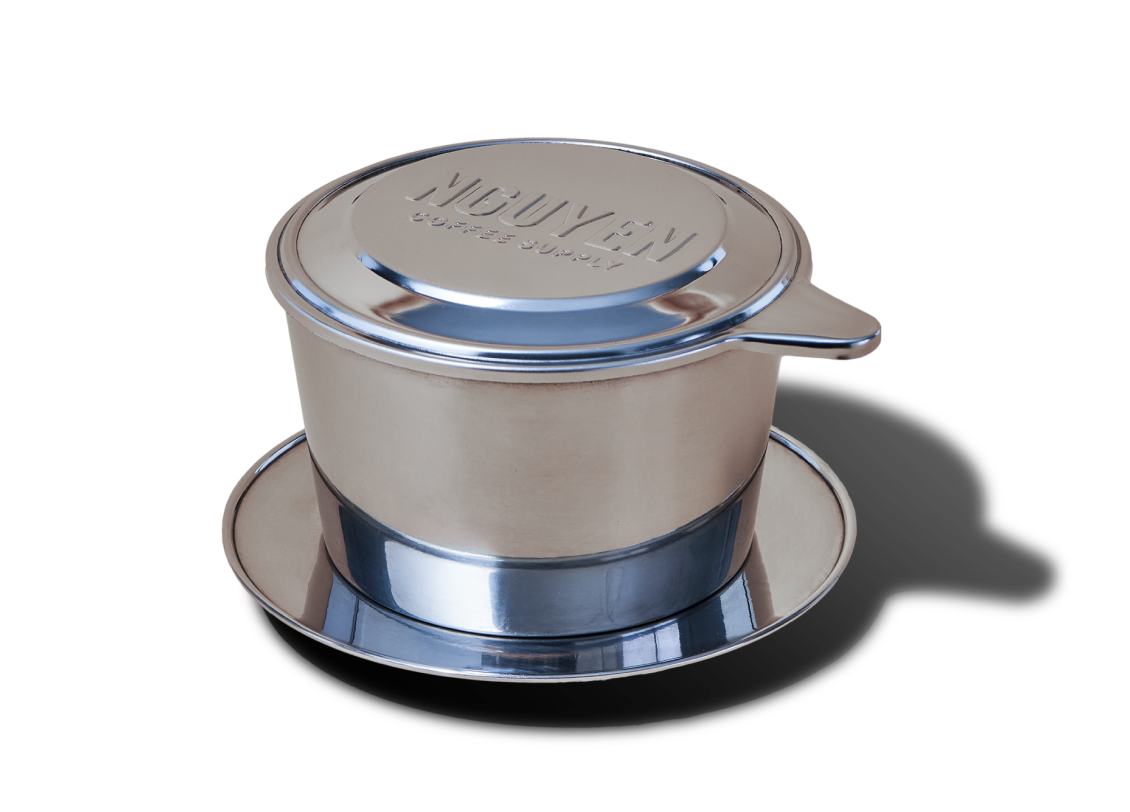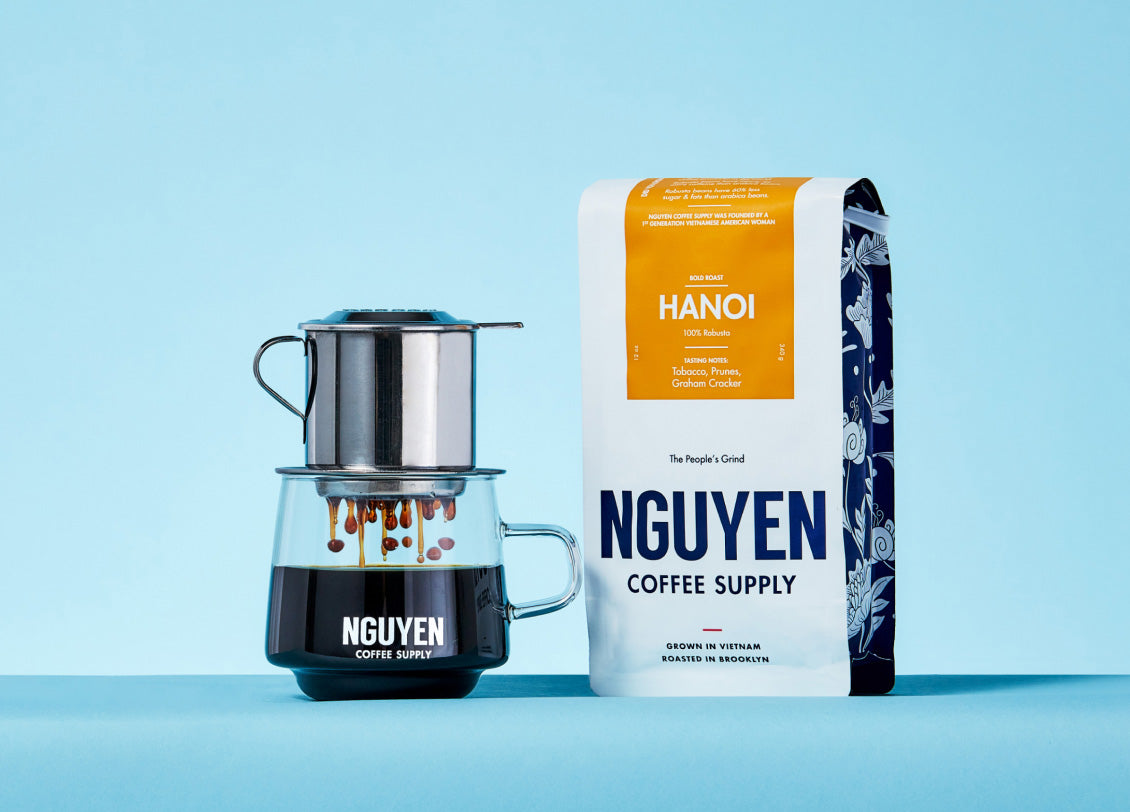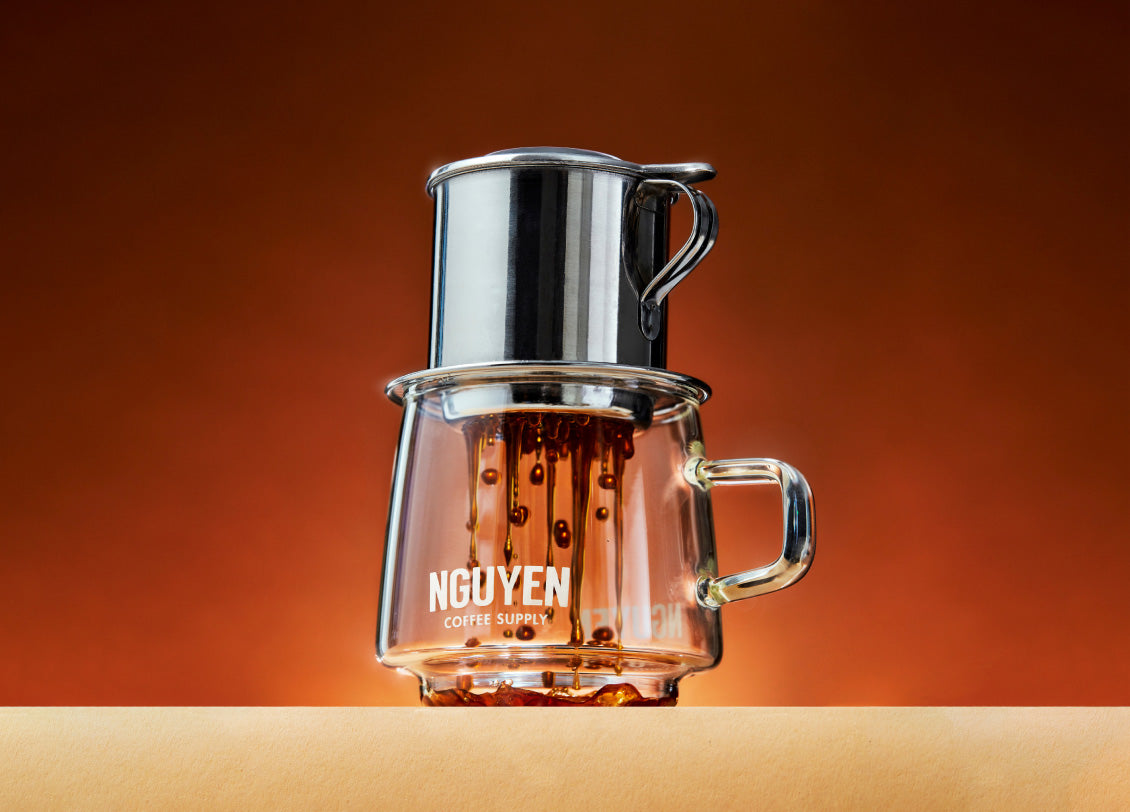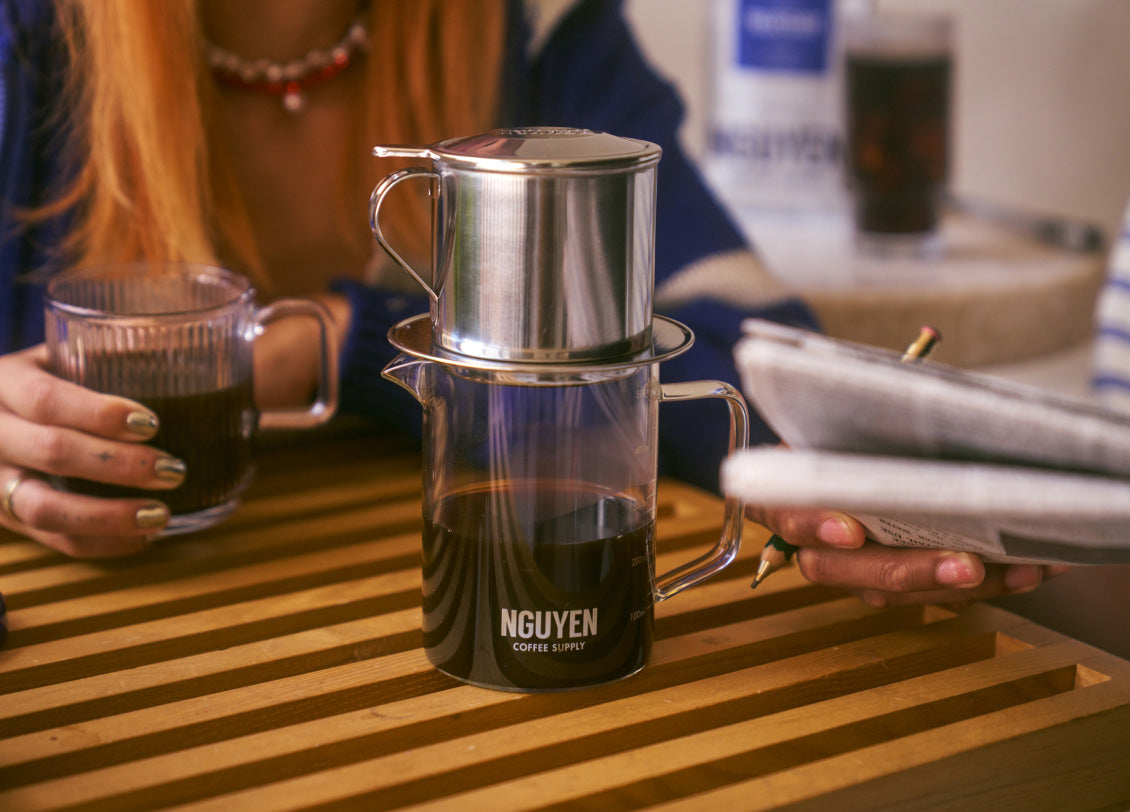 5.0 based on 40 reviews
24 oz Phin Filter
24 oz Phin Filter - 6 - 12 cups of coffee
Our 24 oz Phin Filter is perfect for batch brewing, brunch parties, and sharing with friends and family! Makes 6-12 servings of strong coffee.

We recommend a 1:2 ratio of coffee to water. So start with 12 tablespoons of coffee, then you can add or decrease your coffee depending on how strong you like it. Super versatile!
With the 24 oz Phin, we highly recommend doing a second pour of hot water since some of the water always gets absorbed by the coffee. 

This Vietnamese brew tool is perfect for your daily grind.
Buy one for the price of 5 lattes and use it everyday. It's a game changer. You'll thank us later.  
Read more Read less
Sustainable
Stainless steel
24 oz chamber with 6inch plate diameter
Great for traveling
Perfect phin drip coffee in 6-7 minutes
Sorry, this ithem is currently sold out.
Complete your coffee routine: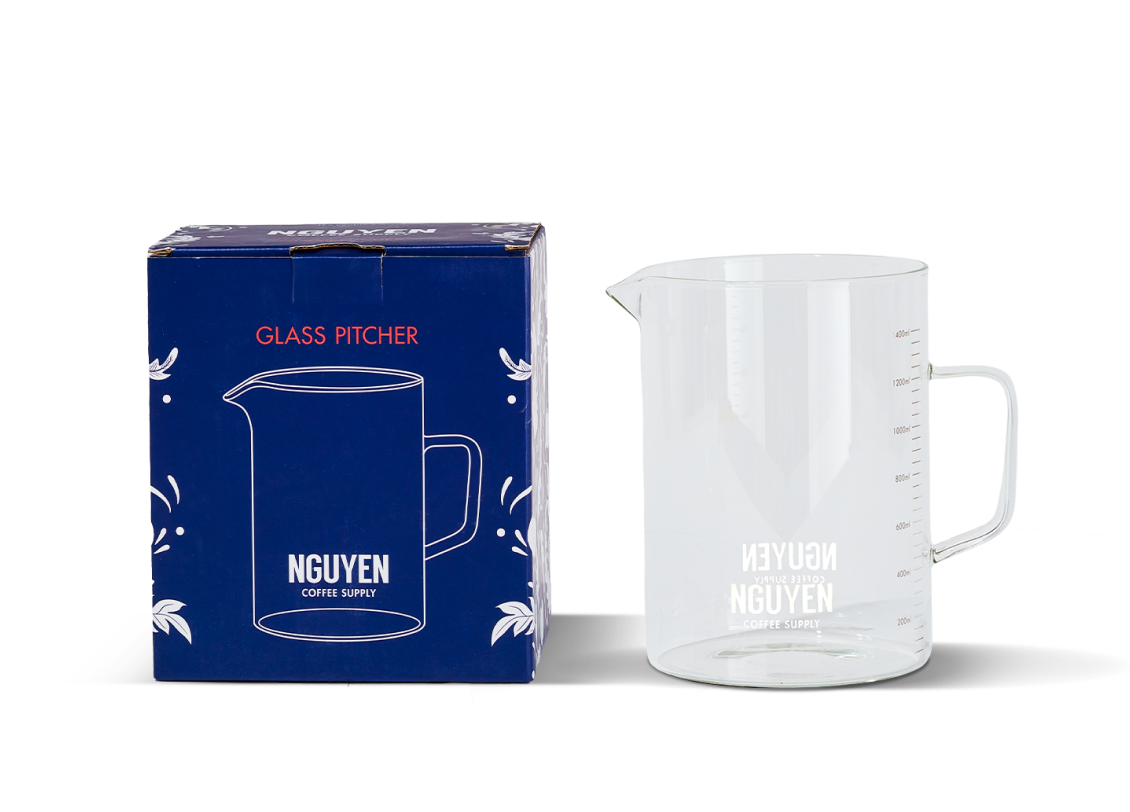 Glass Pitcher, 1400ml
Taste of Vietnam at your home.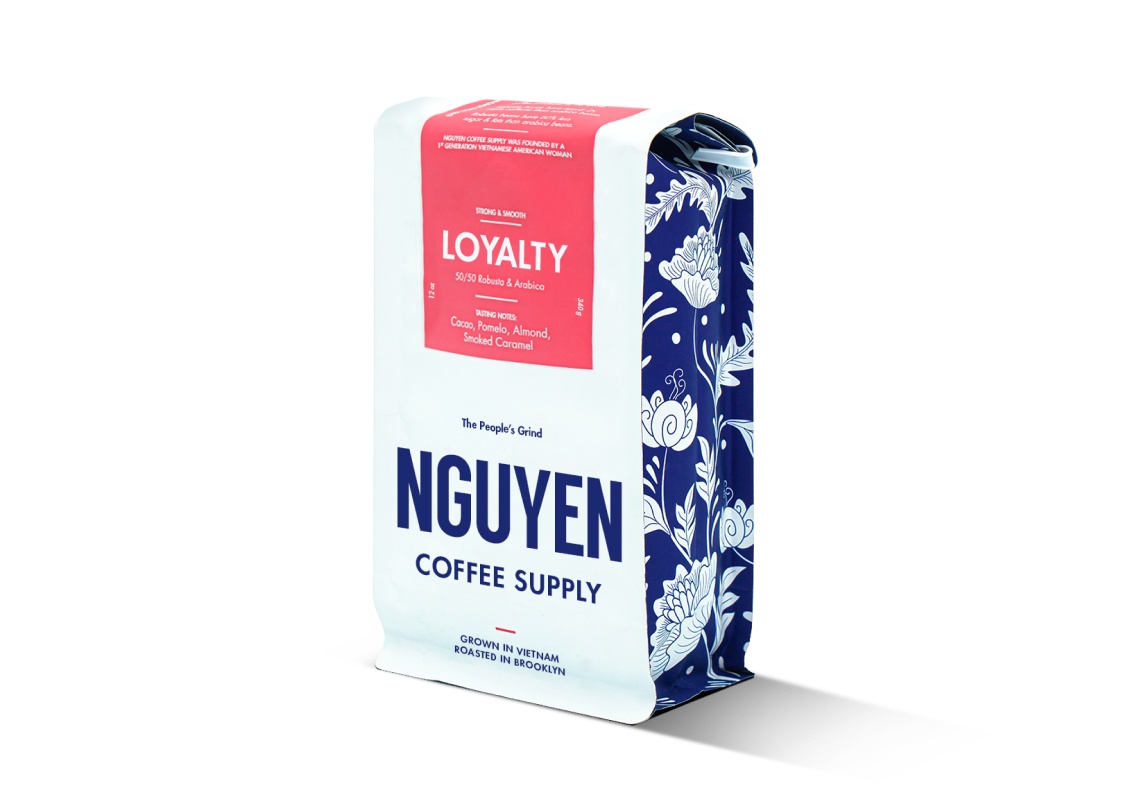 Loyalty (Robusta & Arabica)
Taste of Vietnam at your home.
Works Great!
I was skeptical about the ease of use with this but after a few uses, it so easy to use, adjust extraction, and clean up. Quickly became my go to coffee maker! Definitely Recommend.
Sustainable
Delicious
Easy to use
TRY OUR PHIN FILTER FOR A PERFECT VIETNAMESE BREW...
OR DO IT YOUR WAY
Improve your daily coffee ritual with a bold and delicious slow-drip coffee. It's a game changer. You'll thank us later.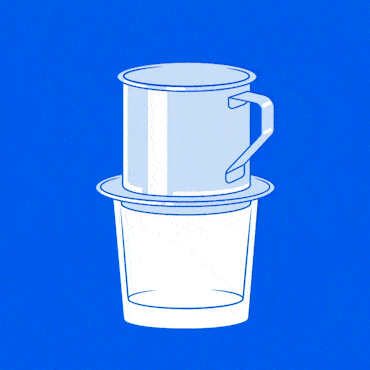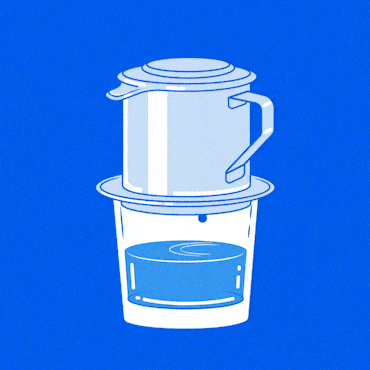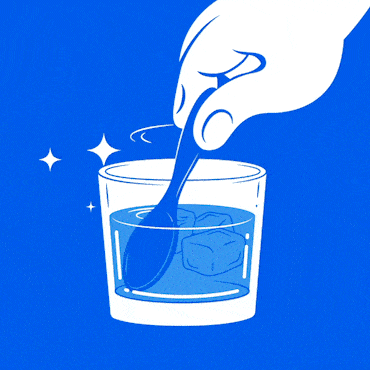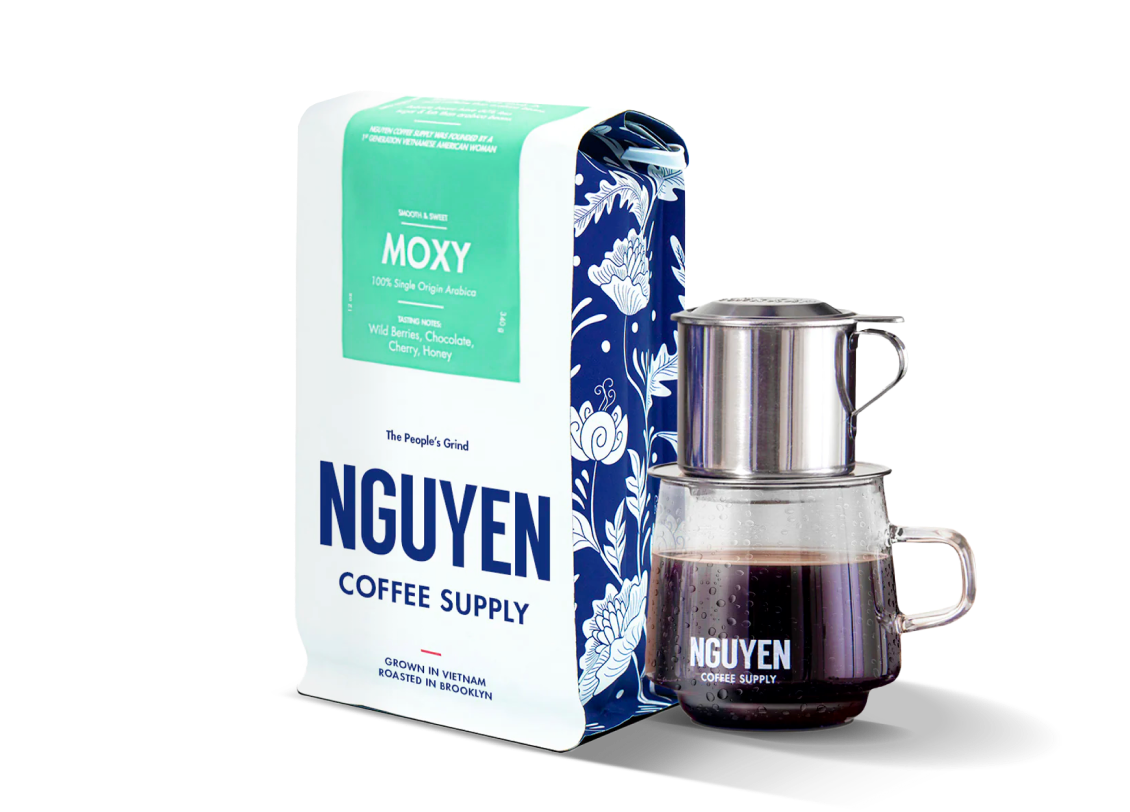 The Original Phin Kit (Filter + Coffee)
This Vietnamese coffee starter kit comes with 1 bag of coffee and 1 Phin Filter. GLASS NOT INCLUDED.
Invest in something that will improve your daily ritual. It's a game changer. You'll thank us later. 
Note: Our ground coffee size is fine, dialed in for our phin filters.
What's inside
Phin Filter
Coffee - Choose your brend
Profile based on extraction
Can add ice for iced coffee
Travel friendly, no shattering

Light and bright, or bitter
Maybe
Maybe
Join 150,000+ customers making more sustainable coffee at home
Love it!!
I'm still figuring out the best ratio but I love it. I make a weeks worth of coffee and it's DELICIOUS
Why did I wait so long?
Seriously some of the best coffee I've ever had and I was a barista in Seattle in the 90s. Buy it right now.
Awesome product, great price, awesome quality and shipping. While I know how to use a phin filter I also appreciated the detailed directions that came in the box. Also the blue box it arrived in was hella cute.
Why won't my coffee drip?
How do I keep my phin filter clean?
Can I order replacement parts for my phin filter?
At this time, unfortunately, we do not sell replacement parts for the phin filter. Please contact hello@nguyencoffeesupply.com for further information and assistance.
How is the phin filter different from pour over?
Phin filter brewed coffee is more concentrated due to the water to coffee ratio. Additionally, phin filters don't require a paper filter, so the extraction process and final cup differ from pour over.

Watch our video explaining the phin filter here.
Why are your phins more expensive?
Our pricing is derived from a variety of factors such as fair labor wages, costs of materials, and production. Our producers are a small, woman-owned team in Vietnam who make our phin filters in batches. Phins at supermarkets may have been mass produced in factories without any information provided on origin or sourcing. We're striving to be as transparent and ethical as possible through every level of our business, and the prices are an effort to reflect that.
Why is my phin filter dripping too fast/too slow?
Factors including how you're grinding, what's your grind size is, and whether or not you have dialed in the grind size to the phin filter affect total brew time.

For Nguyen Coffee Supply phin filters, we recommend a fine grind size and a 2:1 ratio of water to coffee. For other phin filters, we recommend experimenting to dial in according to that specific filter.

For example, coffee that is too coarse will drip too fast. Using less than 2 tbsp of coffee in a 4 oz phin filter may result in a fast drip as well.
Never run out of Coffee
Cross coffee off your shopping list – subscribe to your favorite coffee and we'll deliver it regularly and with a discount.


Not sure which Nguyen coffee supply is for you?
First time here or still not sure what to taste next? Start with our Discovery Kit Subscription. Or take a quiz and find out which Nguyen Coffee Supply coffee makes the perfect brew for a happy you.