Nguyen Coffee Supply exhibited at the 2022 New York Coffee Festival from October 7-9, 2022 at Metropolitan Pavilion in Chelsea. While we had a table in 2019, this year marked the first time we had a full fledged booth with merchandise available for sale, brew demonstrations, coffee tastings, and even a skeeball game to play!
Here are our favorite booths from New York Coffee Festival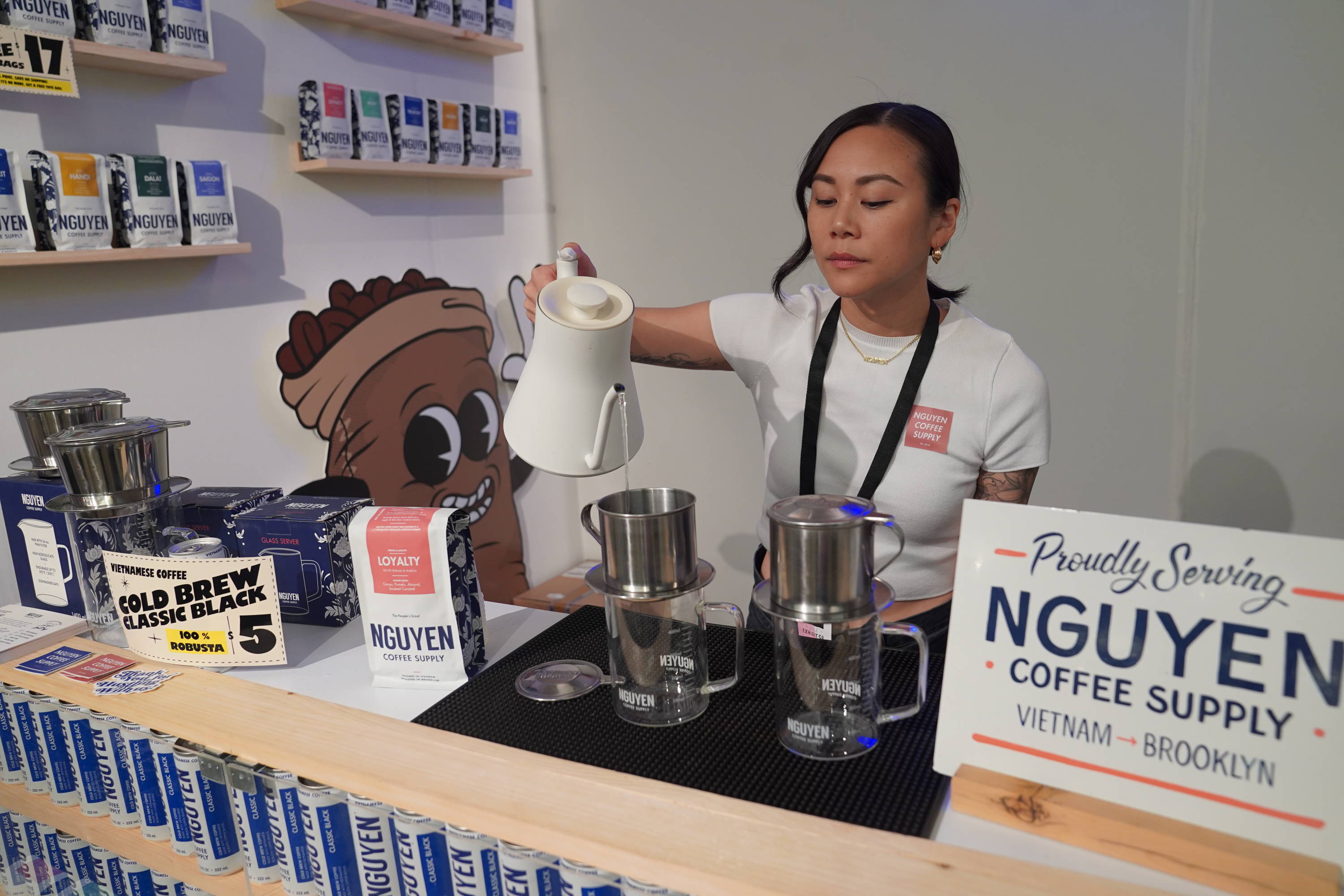 While we obviously loved our own booth, here are some of the best (and our favorite) booths at this year's New York Coffee Festival:
1. Sweetleaf Coffee Roasters
A New York favorite, Sweetleaf's booth had a secret tunnel activation wherein anyone who followed their Instagram account could enter an enclosed space to hang out and enjoy a THC-infused Vietnamese-style iced coffee or other standard coffee beverages.
2. Variety Coffee Roasters
Those looking to transport to the beach were more than satisfied with Variety's booth at this year's coffee festival. Built out with a full blown tiki bar, beach area with lounge chairs, and even fake palm trees, this booth was the perfect getaway from the hectic rush of the festival due to its ample space and relaxed vibes. Variety also made virgin coffee piña coladas throughout the weekend, which were simultaneously refreshing and energizing.
3. Oatly
One of our neighbors at this year's coffee festival, Oatly went all out with their booth area by creating space for a makeshift library complete with padded chairs, stacks of books, and coffee tables. Attendees often started with an oat milk ice cream bar or espresso beverage and then proceeded to relax by the lounge area. If you weren't at a very busy coffee festival, it'd be as if you were sitting in a cozy cafe.
4. Minor Figures
Minor Figures' booth at New York Coffee Festival was among the more design-forward. Decorated with large, distorted mirrors of various sizes atop their signature pastel colors, Minor Figures' booth could shadow as a funhouse. For us, this was a prime example of maximizing possibilities in a small space since their booth was on the smaller side at the festival.
5. DONA Chai
Another one of our neighbors, DONA Chai actually had two booths at this year's New York Coffee Festival! At one spot on the floor, DONA set up an art gallery booth in homage to the Museum of Modern Art (MoMA) in New York. Featuring art from local artists, chai products, and books, attendees were able to peruse at their leisure. Next to our booth, DONA set up the DONA Store which was also in homage to the MoMA Design Store. Here, festival attendees were able to purchase chai products, drinks, and merch – including tee shirts designed in honor of the MoMA's signature designs. Pastiche and fun, DONA's booth was among the most playful of the weekend.
With over 100 different exhibitors, the range of booths at this year's New York Coffee Festival cannot be fully captured in this short list. With the return of the festival, Nguyen Coffee Supply is excited to continue innovating and activating in the coffee community while looking forward to what future festivals have in store.