Vietnamese coffee is trending hot these days. Remember when matcha, chai and boba first entered the mainstream scene? Vietnamese coffee is the new wave! We're experiencing the rise of robusta in front of our very eyes! As such, Vietnamese coffee deserves a place on your cafe menu. Not ready to make a full transition? No worries, we've got you covered.
Get ready for the next wave of culturally inspired beverages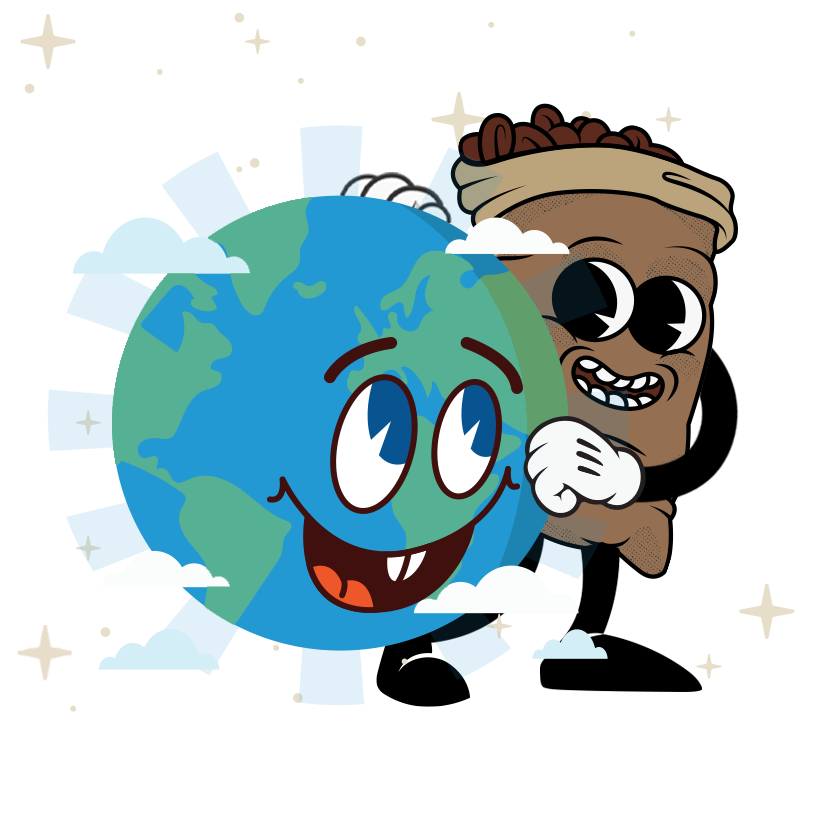 Offer Vietnamese Coffee on Rotation
Much like offering small batch coffee or artisanal blends on a limited time basis, you can also offer specialty Vietnamese coffee on rotation as part of your coffee program. In doing so, you can emphasize the single origin element of the coffee as well as the bean type – robusta.
There are several ways of incorporating Vietnamese coffee into your menu. Here are some of our recommendations:
Brewing Vietnamese coffee through a V60 pour over, espresso or on drip

Making seasonal cold brew with Vietnamese coffee

Incorporating a Phin Brewing Bar onto your menu

Creating a special drink that utilizes Vietnamese coffee beans
Building upon the secular trend of Asian beverage culture in America, like matcha, chai and boba, Vietnamese coffee is the next big wave.
- Sahra Nguyen, Founder of Nguyen Coffee Supply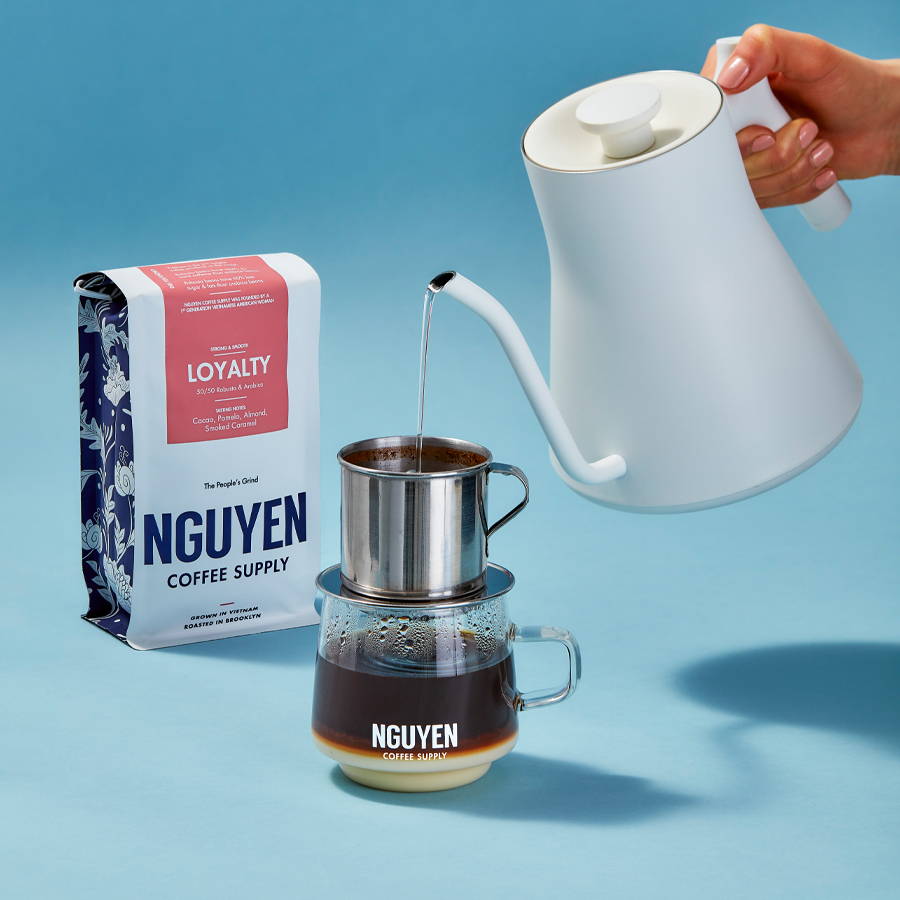 Why should I put Vietnamese coffee on my menu?
Vietnamese coffee is delicious and amazing. Those reasons aside, there are several practical reasons you should put Vietnamese coffee on your menu:
It's strong – robusta coffee has nearly twice the caffeine content as arabica
It's bold – robusta coffee has nutty and chocolatey flavors which many consumers prefer as it pairs very well with milk and sugar.
It celebrates cultural diversity – Vietnam is the second largest producer of coffee in the world and that alone deserves to be known!
It's sustainable – robusta coffee is more pest resistant than arabica and can grow at a variety of temperatures and altitudes. With climate change, arabica yields are being drastically affected so it's important to showcase the future of coffee to consumers now.
It's unique – with a direct trade relationship, we currently one of the few roasters who are able to provide our specialty Vietnamese coffee, which allows your business to offer a unique & differentiated coffee experience.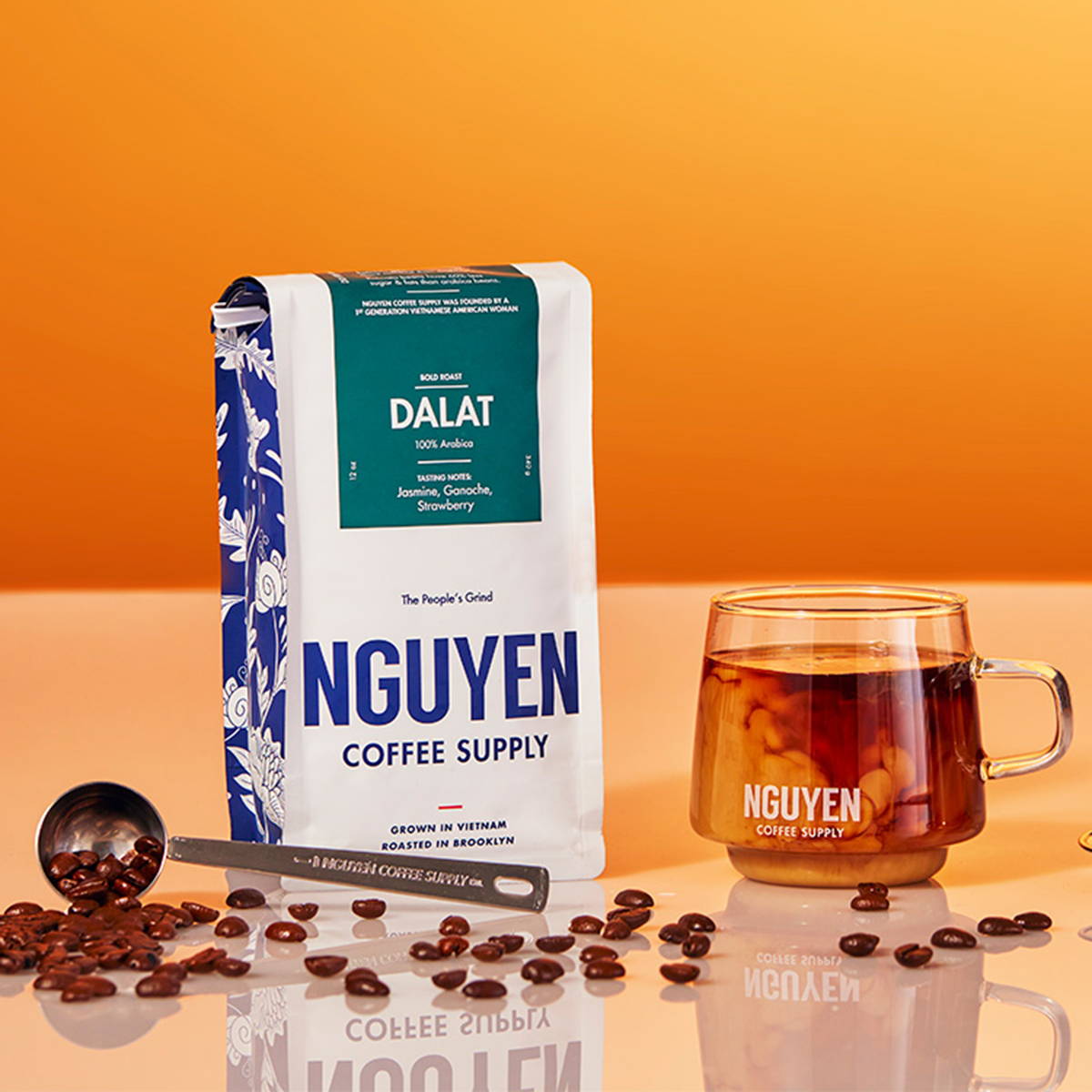 How do I start purchasing Vietnamese coffee for my cafe program?

Nguyen Coffee Supply offers wholesale Vietnamese coffee for retail and cafe partners. For more information,fill out our wholesale inquiry form here and we'll assist you promptly.
We offer six different blends of roasted coffee:
Loyalty – our signature robusta arabica blend with notes of cacao, salted caramel, and pomelo; medium roast

Moxy – our 100% arabica that's our lightest and brightest coffee; medium roast

Truegrit – 100% robusta, one of our strongest coffees with notes of grapefruit zest and bitter melon; medium roast

Saigon – our dark roasted blend of robusta and arabica; perfect for new experiences

Dalat – our 100% arabica dark roast coffee, for a light but bold brew

Hanoi – our 100% robusta dark roast coffee that packs a punch and harkens tradition
Additionally, we offer Phin Filter Sets to help you create a Phin Bar at your cafe or restaurant (you only need 6 inches of counter space!).
Want to learn more about how to incorporate a Phin Bar right next to your V60 Pour Over?We show you how to create a Phin Bar here.