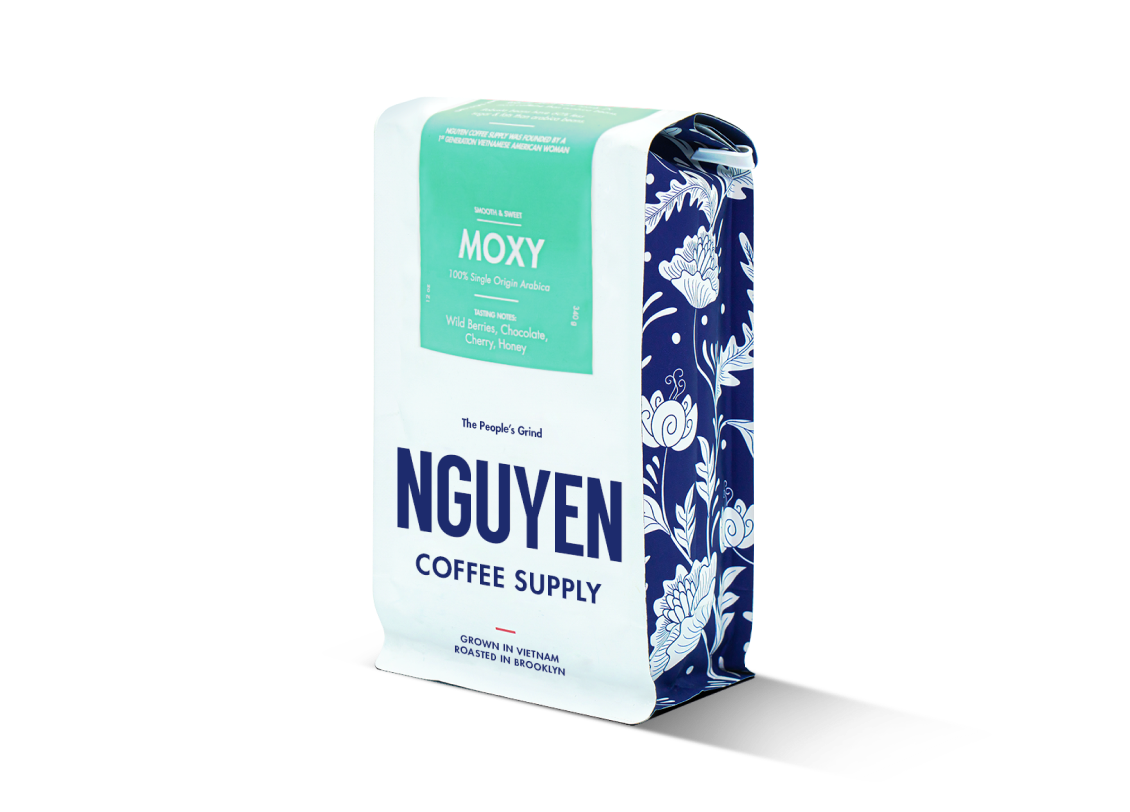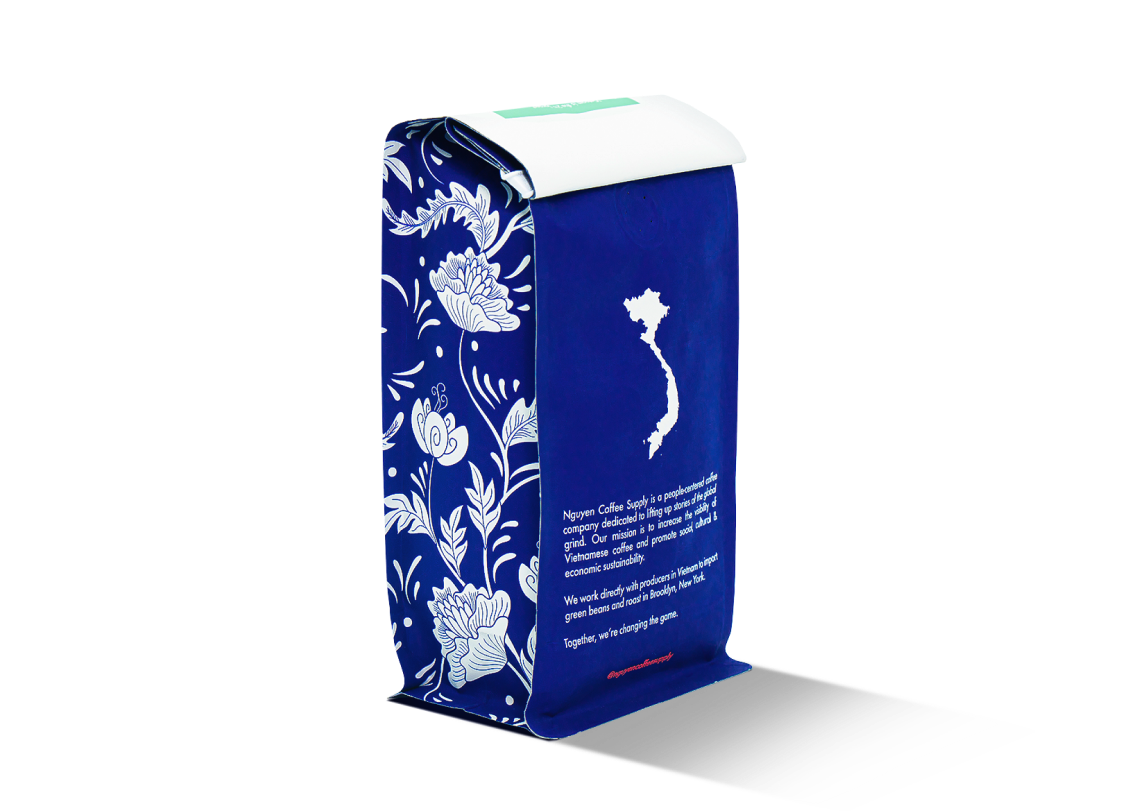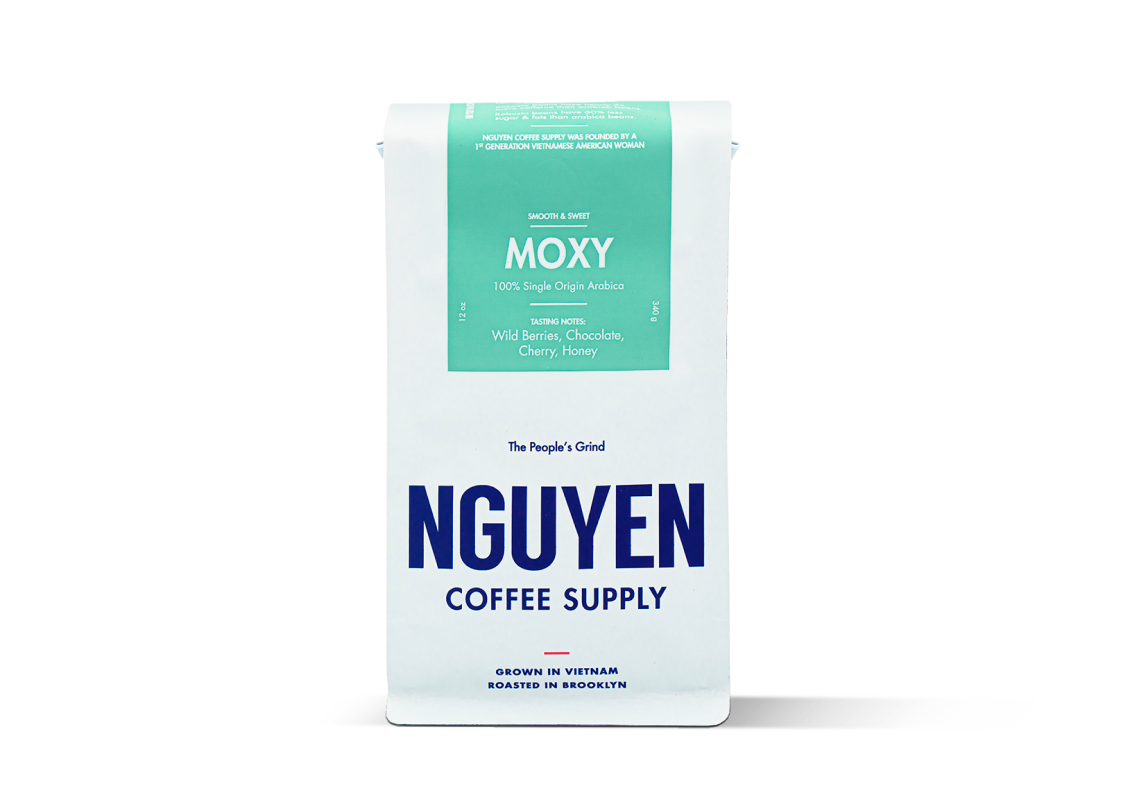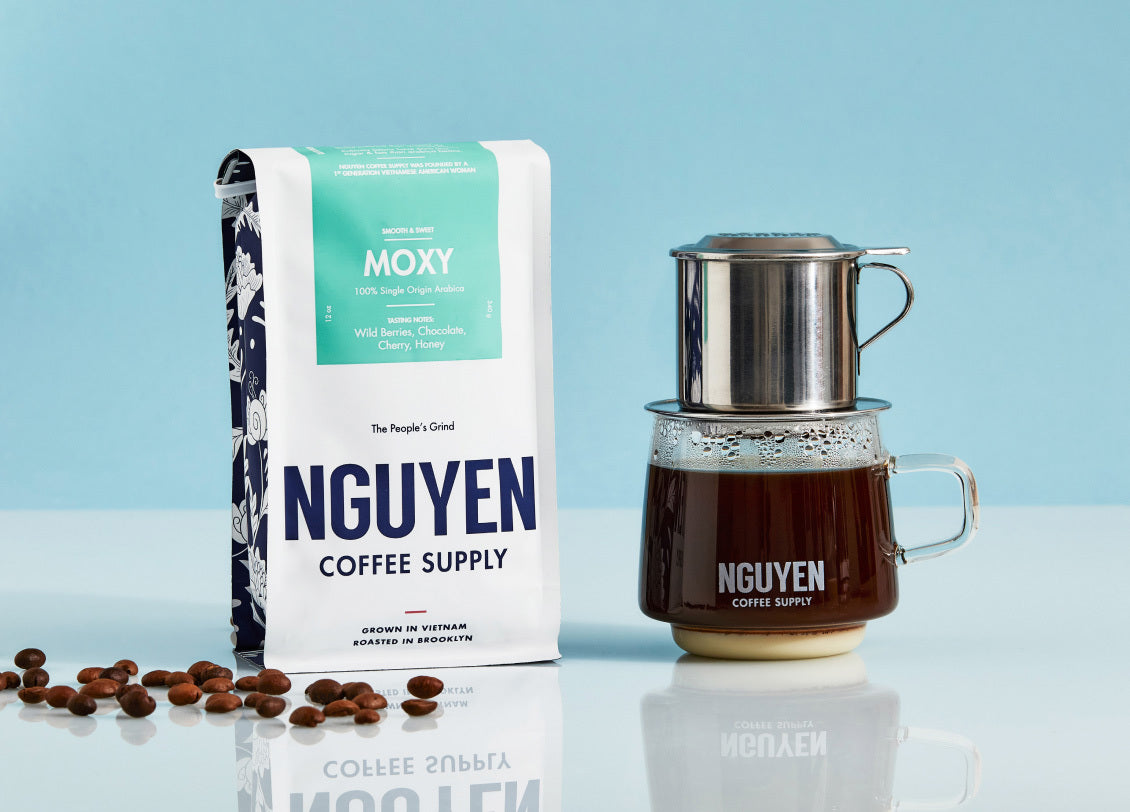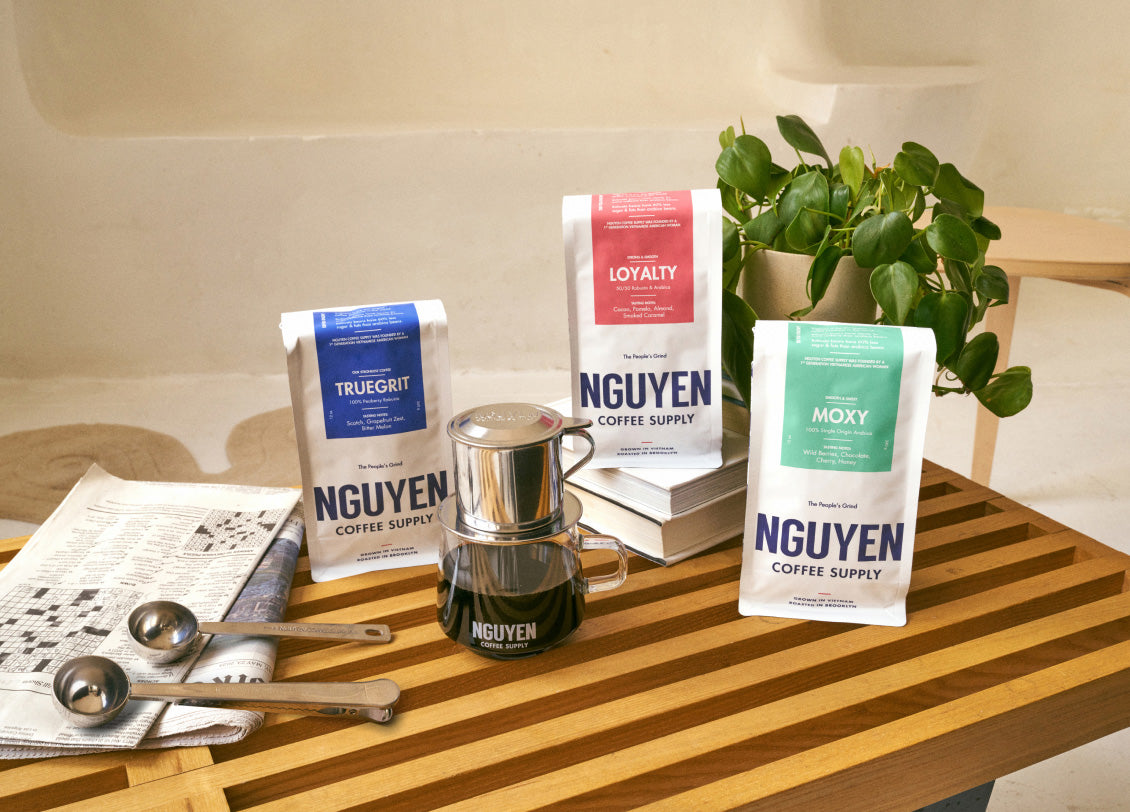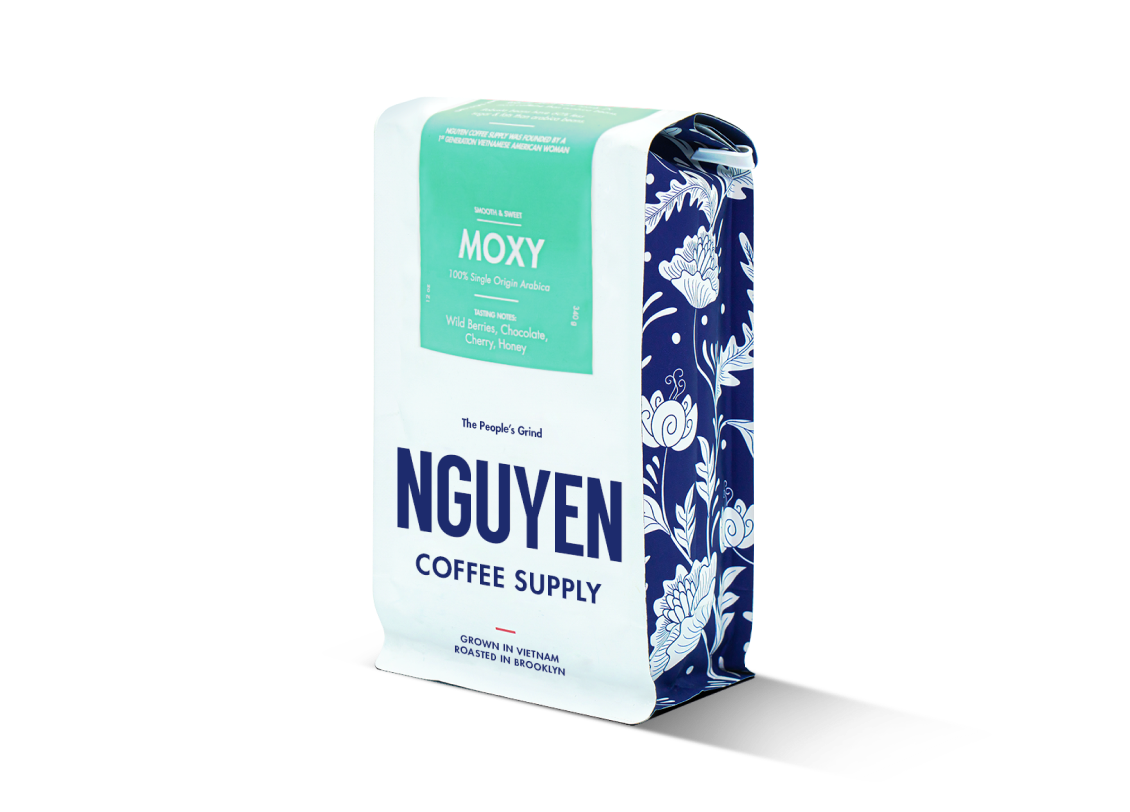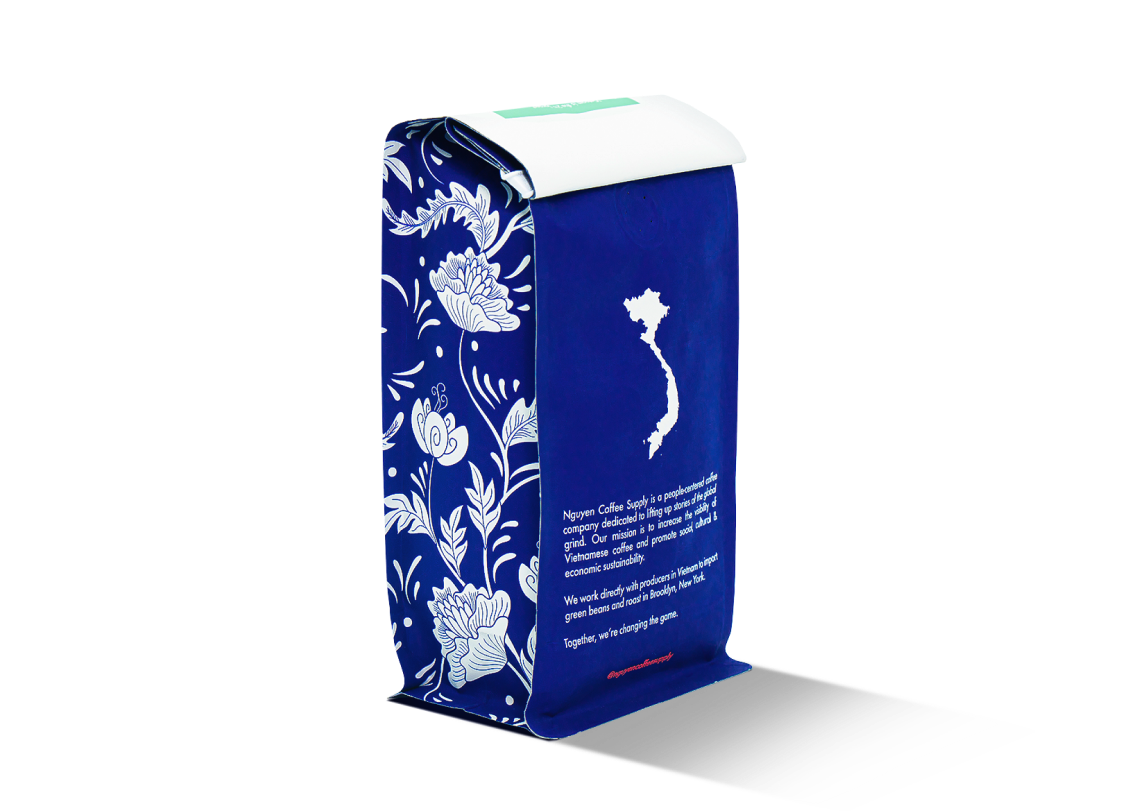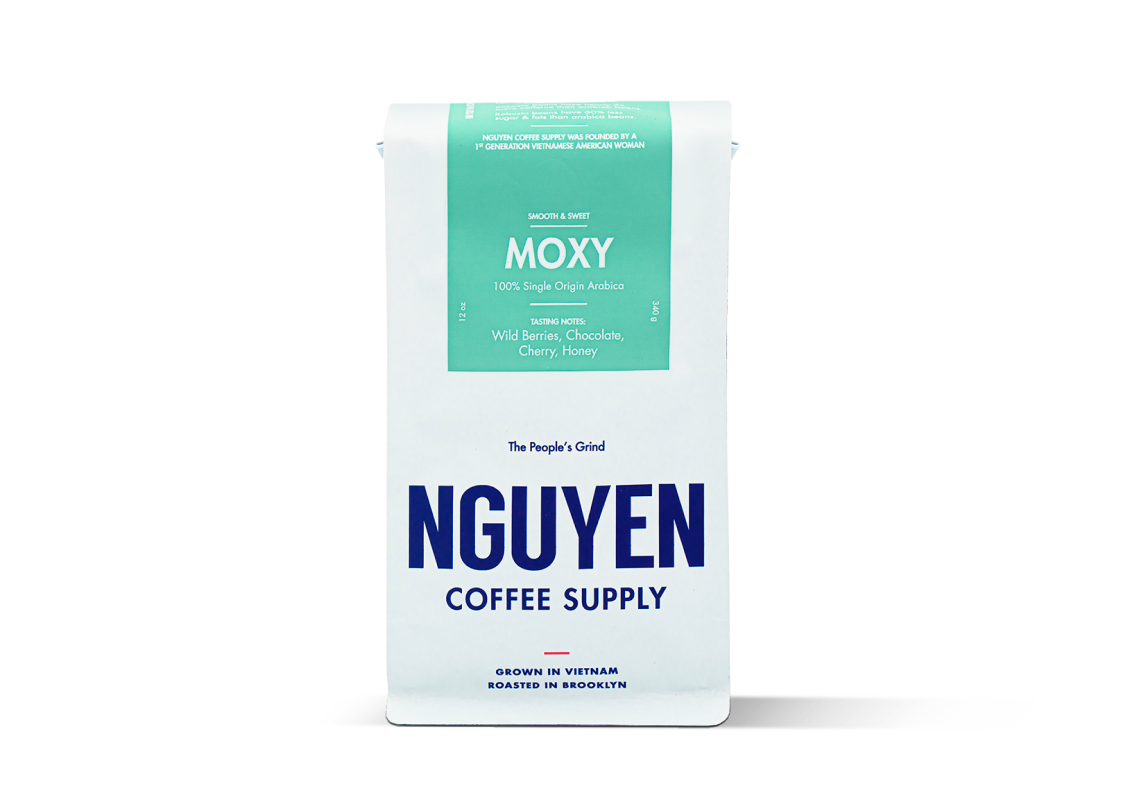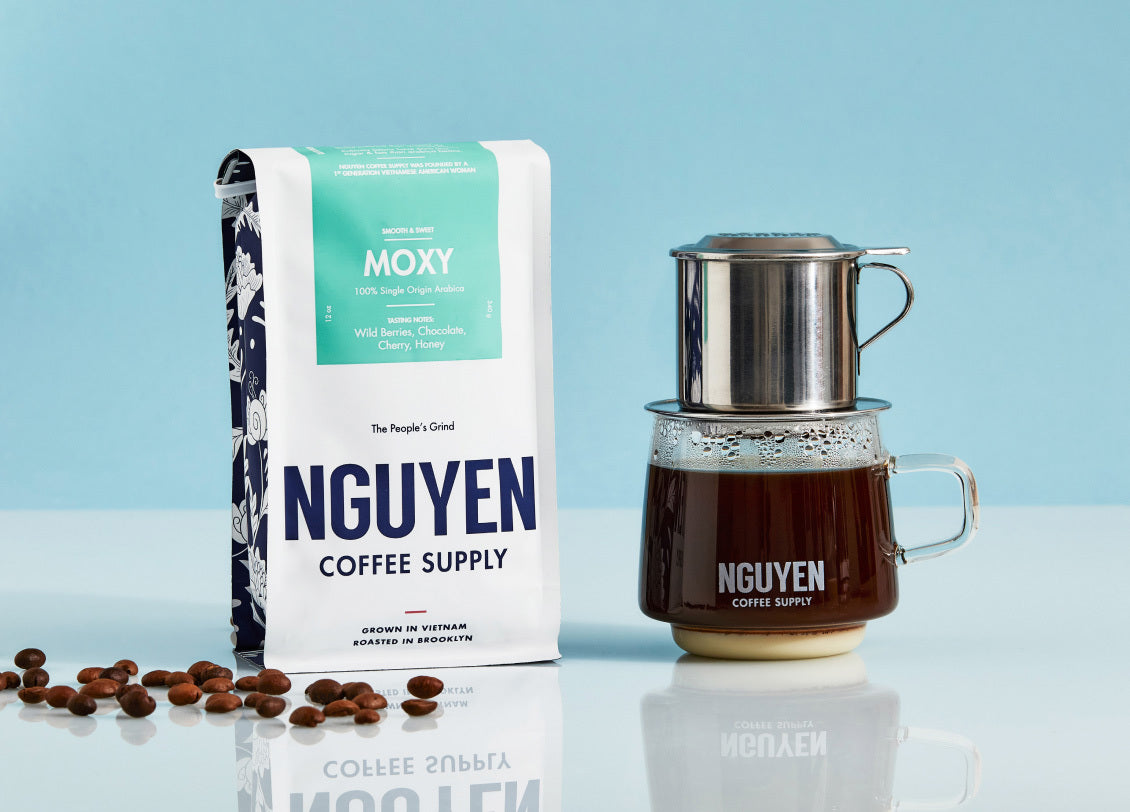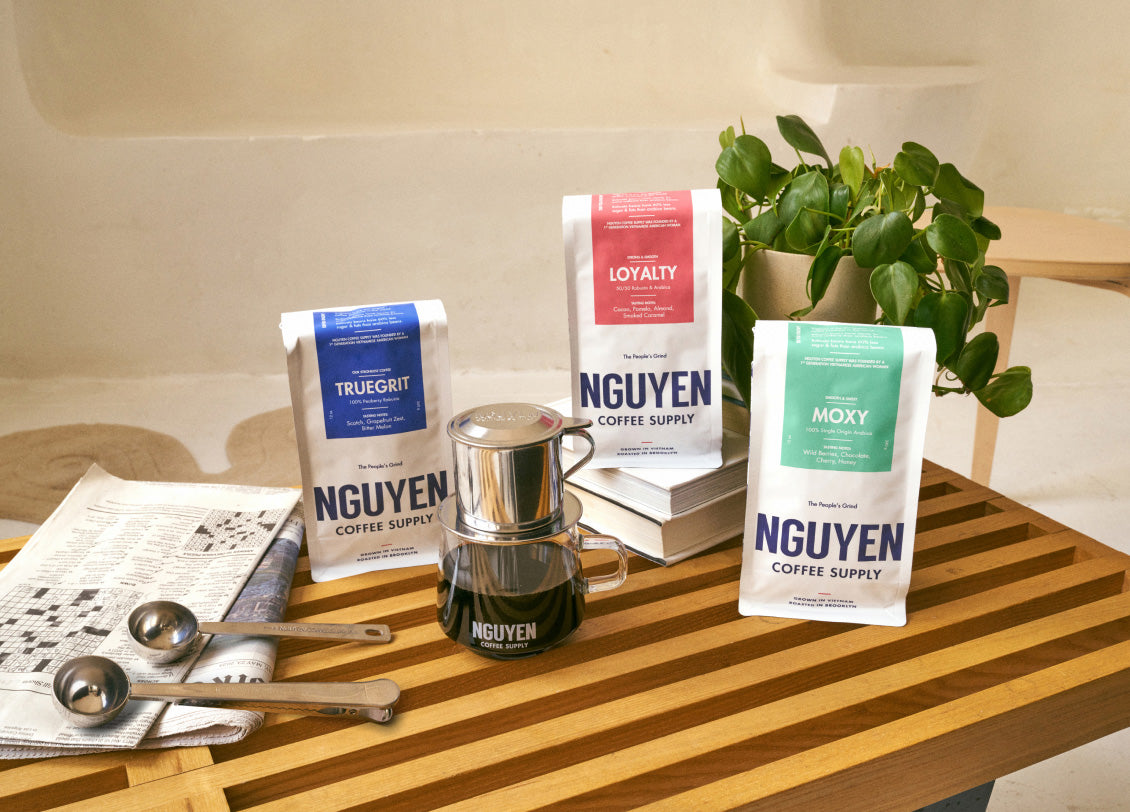 4.91 based on 256 reviews
Moxy (100% Arabica)
12 oz
Sustainable Direct Trade
Roasted in Brooklyn
Subscribe & Save
A rare specialty bean, arabica makes up less than 10% of Vietnam's coffee production. Our Moxy blend is super smooth and fruity without the high acidic sour coffee vibe.
Note: Our ground coffee size is fine, dialed in for our phin filters.
Read more Read less
Roast Level:

Medium

Flavor Notes:

Wild Berries, Chocolate, Cherry, Honey

Recommended Brews:

Drip, French Press, Pour Over, Espresso
Sorry, this ithem is currently sold out.
Complete your coffee routine: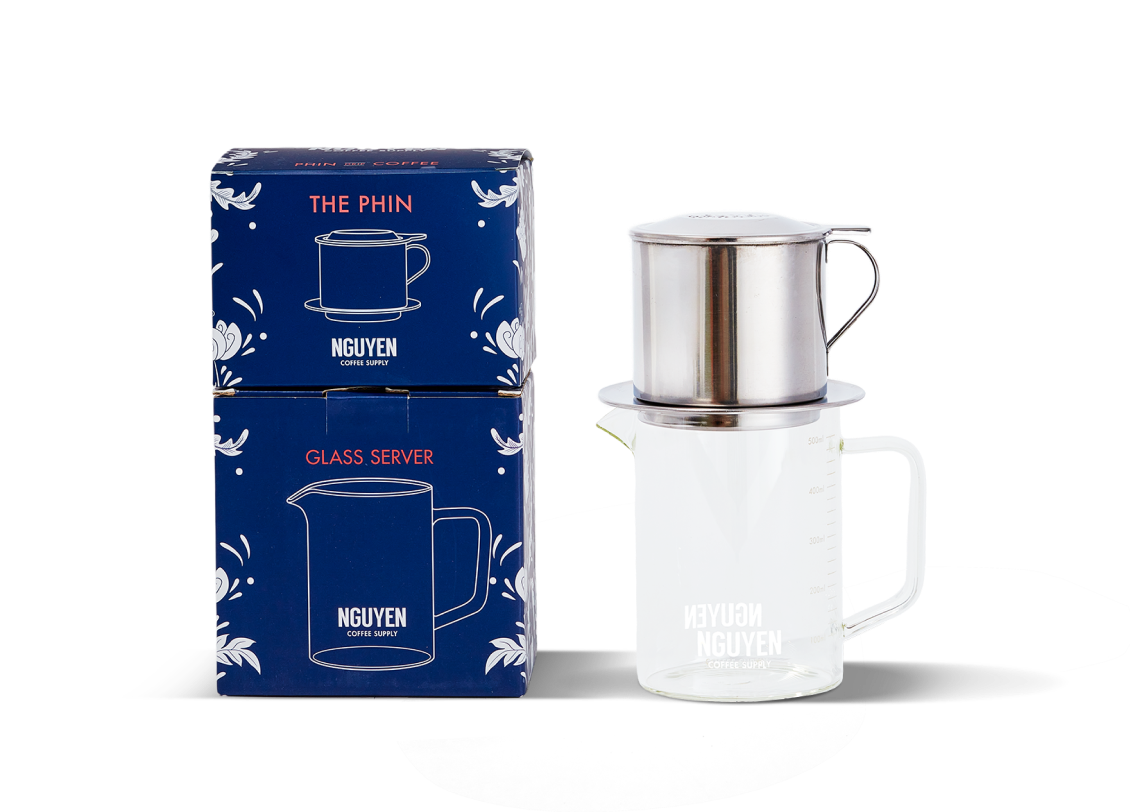 Phin Drip Coffee Set
Taste of Vietnam at your home.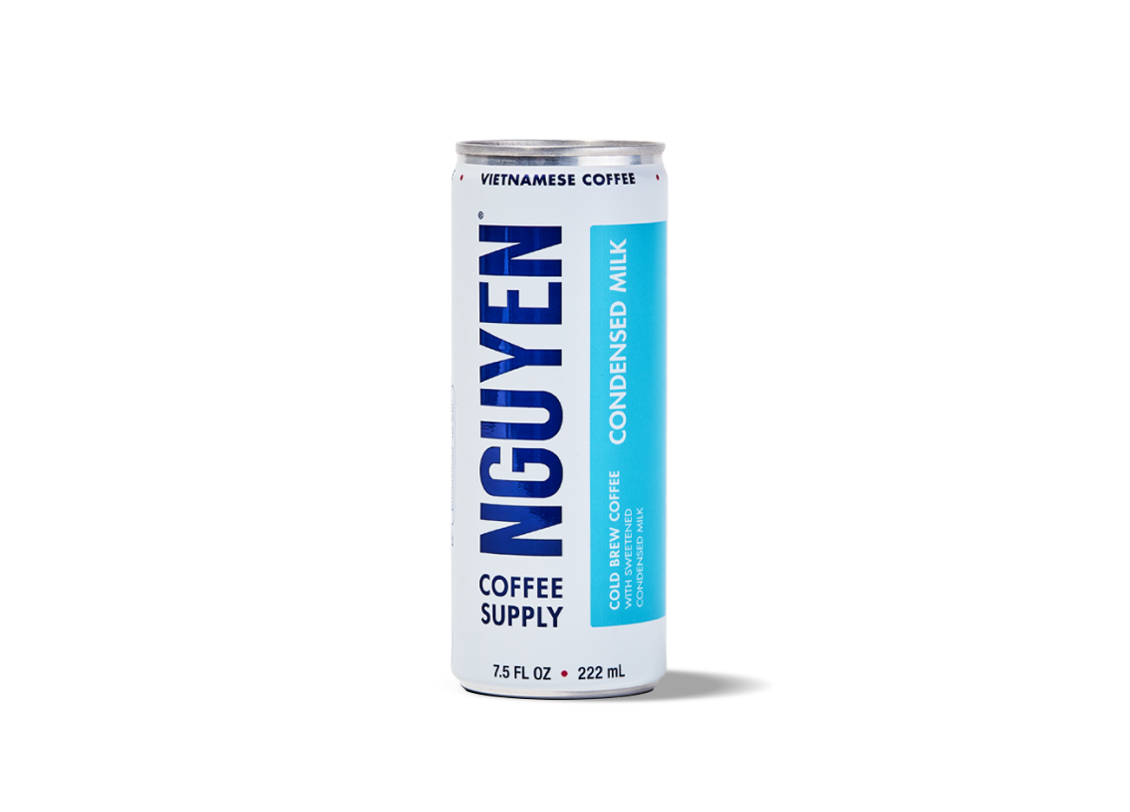 Cold Brew: Condensed Milk
Taste of Vietnam at your home.
Outstanding!
The whole family really enjoyed this roast. It's rich and bold but not too acidic.
FLAVOR PROFILE
Bean Type
Pure 100% Arabica: Smooth, aromatic, exquisite.
Tasting Notes
A harmonious fusion of Wild Berries, Chocolate, Cherry, and Honey in every sip.
Roast Level
Light Medium Dark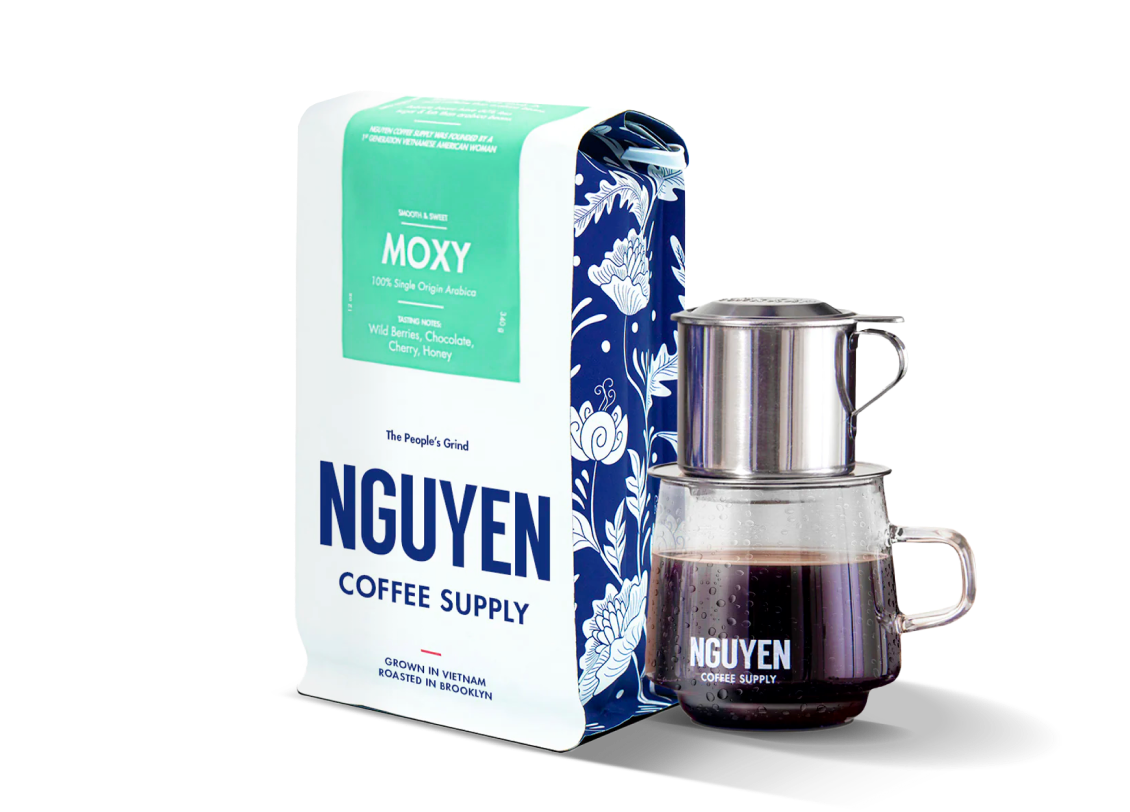 The Original Phin Kit (Filter + Coffee)
This Vietnamese coffee starter kit comes with 1 bag of coffee and 1 Phin Filter. GLASS NOT INCLUDED.
Invest in something that will improve your daily ritual. It's a game changer. You'll thank us later. 
Note: Our ground coffee size is fine, dialed in for our phin filters.
What's inside
Phin Filter
Coffee - Choose your brend


Recommended ways to brew Truegrit
This is how we like to brew our coffees, no worries you can brew how ever you like – French press, V60.....
Phin Filter
French Press
Drip
WHAT MAKES
OUR COFFEE SPECIAL
Vietnamese Climate & Volcanic Soil

Thanks to the climate and fertile soil, Vietnam is the world's #2 largest coffee producer and #1 grower of robusta.

Hand-picked & Washed in Vietnam

Our coffee beans are hand-picked at peak ripeness, producing sweet & flavorful coffee.

Freshly Roasted in Brooklyn

Our coffee is roasted without any additives, flavorings, or oils. We only roast 100% coffee beans.
TRY OUR PHIN FILTER FOR A PERFECT VIETNAMESE BREW...
OR DO IT YOUR WAY
Improve your daily coffee ritual with a bold and delicious slow-drip coffee. It's a game changer. You'll thank us later.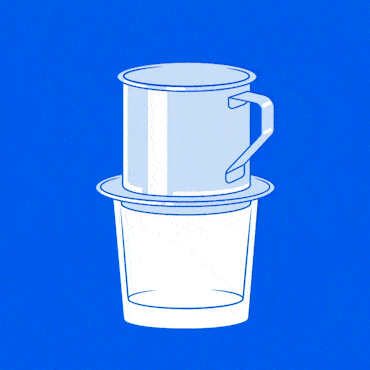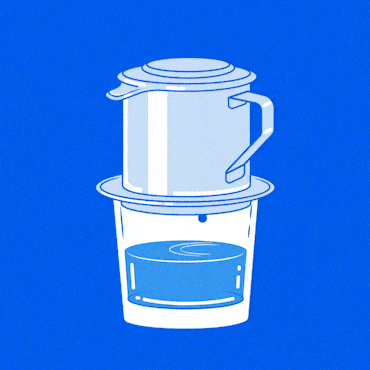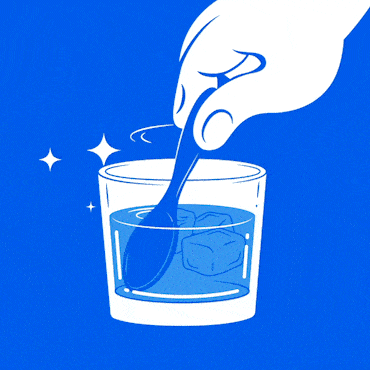 Join 150,000+ customers making more sustainable coffee at home
4.91 based on 256 reviews
TIm
Smooth, very enjoyable! I would define as an earthy taste. A do-over for me.
Love this coffee - very smooth and delicious!
Very good
Incredibly clean taste. Bright. Enjoyable with less milk and sugar than I would normally take. Lots more caffeine too so I only had one cup vs two. I'll be buying it again.
Never run out of coffee
Cross coffee off your shopping list – subscribe to your favorite coffee and we'll deliver it regularly and with a discount.


Not sure which Nguyen coffee supply is for you?
First time here or still not sure what to taste next? Start with our Discovery Kit Subscription. Or take a quiz and find out which Nguyen Coffee Supply coffee makes the perfect brew for a happy you.